Tandoori Chicken for the Soul
A beautifully golden hatted leg of pork served with a selection of sauces. The pork itself is seasoned basically so it can be combined with any manner of flavours.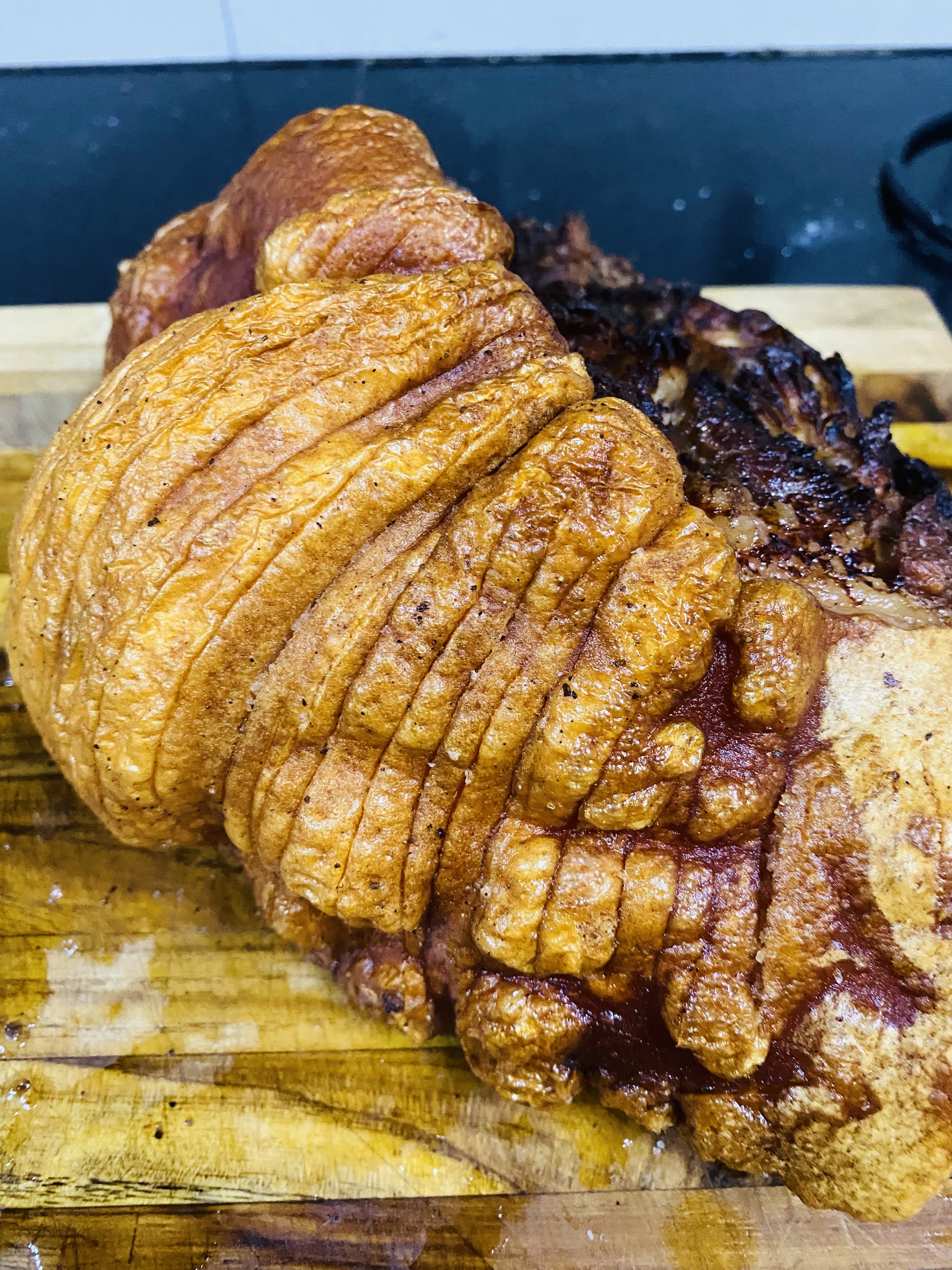 Time
Prep Time : 15 minutes
Cook Time : 5.5 to 6 hours
Active Time : approximately 25 minutes
Ingredients
Method
This is a slow cooked leg, so set some time aside for it on the day you want to eat it. The slow cooking gives you tender meat and then by using high heat to finish cooking you get the crackling.
Eat in good health!
Tandoori Chicken This recipe is for about a 1.5 kg skinless. chicken. Cut in 8 pieces Marinade 250 grams yoghurt (Greek style is best) 1 tablespoon of ginger + garlic paste (1 part ginger 2 parts garlic) 1 heaped teaspoon of coriander powder 1 teaspoon of Garam masala ( your local Indian store should have this) ½ teaspoon of cayenne powder OR 1 teaspoon of smoked paprika 1/4 teaspoon Red food colour (you can drop this if you like) 1 tablespoon chopped fresh coriander / cilantro Salt to taste ( but I used about 1 heaped teaspoon) ½ tablespoon of any light oil ( canola, peanut, vegetable ) avoid olive if you can Optional : you can replace the fresh coriander with some dried fenugreek leaves for a slightly different flavour) Method Whisk all the marinade ingredients together Cut gashes in the chicken, so the marinade can penetrate completely Rub the marinade into the chicken, making sure all pieces are covered Pour the remaining marinade over the chicken Marinade for at least 6-8 hours ( you can do more but it will be ready if you can't wait too long) Chicken with skin may need more marination time, but you will get better results with skinless Cooking Stage 1 Preheat oven to 180 c Place chicken flat on an oven tray and cover with some of the marinade Cook for about 45 min to an hour The chicken should get cooked almost through in this stage. The marinade liquid keeps it moist. You don't need to turn it really Stage 2 - charring You can do this on a charcoal grill as well for a smokey flavour; I was lazy today and continued in the oven Lay out the chicken on a wire grill - you want direct heat all around now Cook between 180-200c for about 15-20 minutes You want the chicken to start charring. Don't be afraid of the black bits. That good eating. Most Indian recipes don't call for resting, but you can give it about 5 minutes of resting out of the oven.
Dill Raita 400 GMs of yoghurt ( Greek is best) Salt to taste 100 GMs of fresh dill chopped fine ½ teaspoon of roasted cumin, powered fine Whip everything together Kachumbar salad (literally crushed mixture :) ) ⅓ cup each of following chopped veggies ( you can mix and match, more or less, change to you preference) red onion tomato (deseeded) cucumber ( seeds removed) carrots 1 chopped green chillie / jalapeño (remove he seeds if you want) Kachumbar are not fiery hot chopped coriander some chopped mint 1 tablespoon of lemon juice Salt Pinch of cayenne ½ teaspoon chat masala ½ teaspoon of roasted cumin powder Mix everything together. Add more lemon, or cumin or Chas masala as you like